Wired to Eat: Turn Off Cravings, Rewire Your Appetite for Weight Loss, and Determine the Foods That Work for You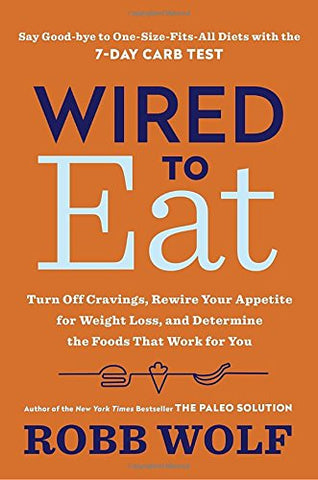 Author: Robb Wolf
Brand: Wolf Robb
Edition: 1
Features:
Wired to Eat Turn Off Cravings Rewire Your Appetite for Weight Loss and Determine the Foods That Work for You
ISBN: 0451498569
Number Of Pages: 400
Publisher: Harmony
Release Date: 2017-03-21
Details: From New York Times bestselling author of The Paleo Solution...

One Month to Reset Your Metabolism for Lasting Fat Loss,
One Week to Discover the Carbs that are Right for You.
 
The surprising truth is that we are genetically wired to eat more and move less, the exact opposite of the advice we are often given.  Now there is a more customized weight loss solution that works with your body, a solution based not on arbitrary restriction of foods but on what works for YOU. Developed by former research biochemist, health expert, and bestselling author Robb Wolf, Wired to Eat offers an eating program, based on groundbreaking research, that will rewire your appetite for weight loss and help you finally determine the optimal foods for your diet and metabolism.

With his bestselling book, The Paleo Solution, Robb Wolf helped hundreds of thousands of people lose weight by eating a low-carb Paleo diet, but Paleo is only a starting point, not a destination.  Now, he'll share a more customized way of eating that may be the key to permanent weight loss and better health. You'll start with Wolf's 30-Day Reset to help you restore your body's blood sugar levels, repair your appetite, and reverse insulin resistance. There are more than 70 delicious recipes, detailed meal plans, and shopping lists to aid you on your journey. Wolf also includes meal plans for people who suffer with autoimmune diseases, as well as advice on eating a ketogenic diet. Once you've completed this phase of the plan, the unique 7-Day Carb Test will help you determine what amounts and types of carbs you can tolerate. 

No more guessing. Now you can find out for yourself which foods you can and cannot eat, instead of relying on a one-size-fits all diet. Transform your diet by discovering your peronalized weight loss blueprint with Wired to Eat.
EAN: 9780451498564