TRX Training - Suspension Trainer Basic Kit + Door Anchor, Complete Full Body Workouts Kit for Home and on the Road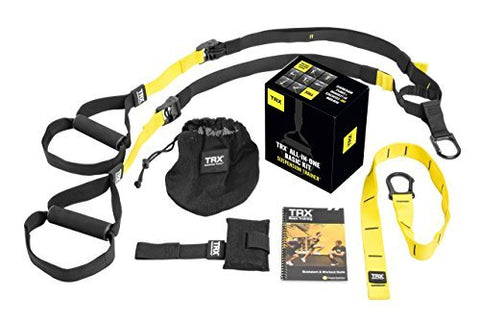 Brand: TRX
Features:
ALL INCLUSIVE PACKAGE: Includes TRX Suspension Training Strap, TRX Suspension Anchor, TRX Door Anchor, best-in-Class 35 page full-color TRX Workout Guide & Two Bonus Workouts
ONE SOLUTION...MANY BENEFITS: Builds muscle, Burns Fat, Increases Endurance & Improves Flexibility
QUICK AND EASY SETUP: Simple and easy setup allows the TRX Suspension Trainer to be set up in 60 seconds. Anchor off any door, tree branch, rafter, beam or secured elevation point
ON THE ROAD, OR ON THE GO: Get professional results anywhere, any time. The TRX Training Suspension Trainer Basic Kit with Anchor is portable and convenient for travel
THE TRX MANIFESTO: As the leaders in functional training, we aim empower you in your pursuit of better. We've developed the world's best training equipment, workout programs, and education courses to help you achieve a better version of yourself
Legal Disclaimer: Items shipped from China, arrived in the United States takes 5-7 days. If you can not wait for caution.
Publisher: TRX
Warranty: 1 year limited warranty
Details: You don't need a home gym to enjoy a total home fitness program. This system provides everything you need to build strength, increase your flexibility, spot-train, and fit in a comprehensive, healthy workout anytime you want, anywhere you want. The TRX Pro Kit includes: TRX Suspension Training Strap, TRX Suspension Anchor, TRX Door Anchor, TRX Mesh Carry Bag and our best-in-class full-color 35 page Workout Guide.
UPC: 847585001417
EAN: 0847585006511