Seychelle Pitcher with Regular Dual Filters Included - New Design with better water flow and less plastic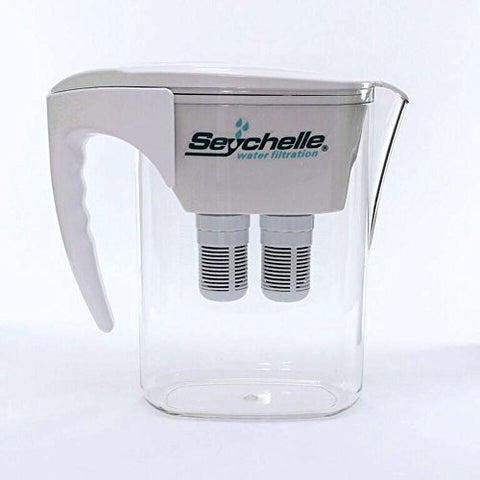 Color: Multicolor
Features:
✓ NEW STYLE. Replaces old, single filter pitcher with 33% additional filtering and faster water flow.
✓ 200 GALLONS of filtered drinking water (100 gal per filter)
✓ REMOVES UP TO 99.99% OF CONTAMINANTS AND POLLUTANTS noted below.
✓ REMOVES 2000% MORE CONTAMINANTS THAN BRITA, INCLUDING FLUORIDE, LEAD, MERCURY, AND CHLORINE. Five stage filters with 2 micron pores, including a lead/fluoride filter, protects you and your family from contaminants that other filters miss.
✓ PREMIUM DESIGN FOR HEALTH AND SUSTAINABILITY. Filter made in USA, 100% BPA-free, 100% FDA-approved food grade materials, 100% recyclable, 100% vegan.
Publisher: Seychelle
Details: The NEW Dual Filter Seychelle Regular Family Water Pitcher removes contaminants such as lead, heavy metals, chemicals, pesticides and fluoride. Completely filters up to 200 gallons of water for drinking, cooking, plants, and pets. Removes up to 99.99% of toxic chemicals, contaminants, and pollutants found in fresh water supplies including, but not limited to: Chemicals including Chlorine, Chloroforms, Radon 222, DDT, fluoride (up to 90%). Dissolved Solids and Heavy Metals including dirt, Arsenic, Asbestos, Lead, Mercury, Copper, Zinc, Aluminum, trihalomethanes, PCB, PCE, Chromium 6, and other detergents and pesticides. Volatile Organic Compounds, Trihalomethanes, Nitrates & Nitrites, Arochlor 1260 (PCB) and MTBE. Recommended for use with municipal water only (well water with any sediment may prematurely clog the filter). The Dual Filter capacity is 200 gallons. There is no need to count the gallons, our filters will not expire, but the flow will become slower and slower until it is time to change the filter. TIP TO SAVE MONEY: Reflush the filters every 3-4 weeks to flush out built-up contaminants. This will often fix the issue of a slow, dripping filter and will extend the life of your filter, saving you money. When reflushing the filter does not fix the slow drip, it is time to replace the filters. The filters remove the same amount of contaminants at the end of the filter life as we do at the beginning.
UPC: 755918447828
EAN: 0755918447828
Package Dimensions: 11.0 x 10.9 x 5.7 inches