(PK of 2) Incrediwear Knee Sleeve - Radical Pain Relief for Aches & Injuries (XL)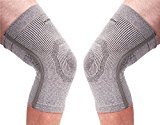 Brand: Incrediwear
Features:
Incrediwear knee braces can bring comfort to your body within minutes of putting them on, giving extra joint support needed for sprains, meniscus tears, tendonitis and arthritis.
Publisher: Incrediwear
Details: Incredibrace knee brace can significantly enhance comfort and mobility, outcomes that occur due to increased blood flow, regulation of temperature, and delivery of a greater supply of oxygen and blood to the targeted area. Most knee supports simply compress the injury; Incredibraces support the injury and use the addition of a patented organic germanium bamboo charcoal blend making this brace ideal for anyone experiencing discomfort related to circulatory issues, or anyone who has suffered a sports related injury, arthritis, or injury from repetitive use. Increased blood can help to decrease swelling and increase mobility leading to a reduction in pain.
UPC: 891709000541
EAN: 0891709000541